Ladbroke Finance Manager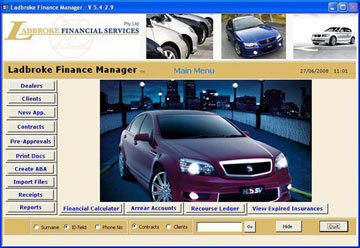 Ladbroke Finance Manager is a comprehensive fully automated Finance Software Package. It complies with all aspects of the Consumer Credit Code and is a fast, efficient and extremely easy to use system.
This system can be easily adapted for use anywhere in the World.
Fully automated Finance Software Package
Produces all Legal Documentation
Comprehensive Reporting
All Interest Calculated
Customers for Life
Easy Tracking
Full Training & I.T. Support
Fast Information Retrieval
Call us Nationwide on
1800 13 55 12
for more information
or email us here!